How Can I Tell and Help My Limping Dog?
Dec 08, 2022
|
Conditions & Solutions
|
0
|
6
|
0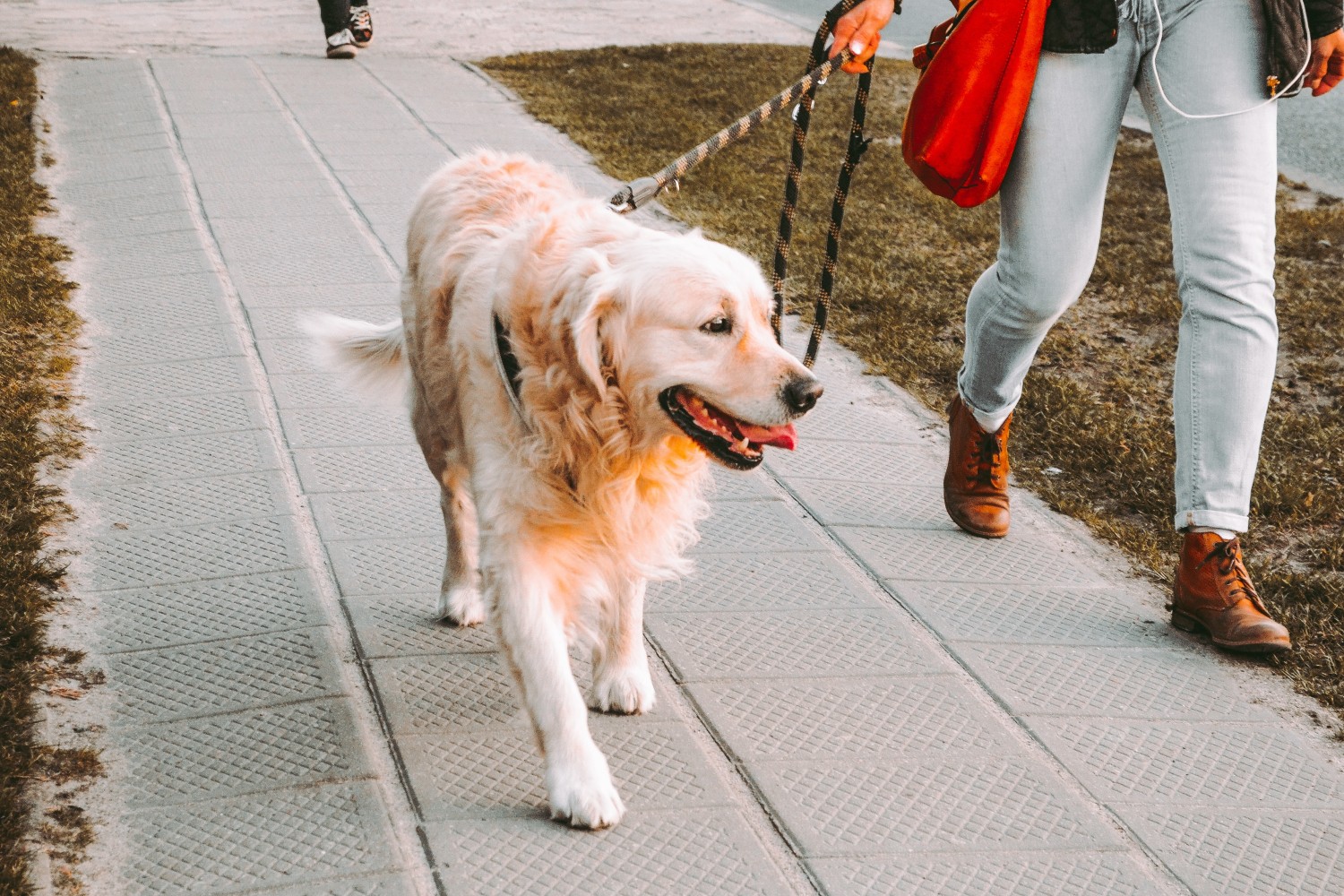 A number of canine conditions and dog injuries can make it difficult for our furry friends to walk and exercise comfortably. Dog has some common knee problems. Unfortunately, they can't speak up about what's bothering them or describe how the symptoms started. So, it's up to us as observant dog owners to recognize the warning signs of a dog leg injury and take the appropriate action whenever our dogs limp or suddenly appear lame.
4 Reasons that your dog is limping
Paw Injuries: Check your dog's paws. They run around without foot protection all day and night, so it is pretty common for them to step on something. If there is a thorn or rock in your dog's paw, this can be extremely painful.
Bone and Joint Injuries: The most obvious cause of limping and lameness, bone and joint injuries can occur at any time in a dog's life. Your dog may sprained or strained their joint. They're not as easy to spot as broken bones, however. Keep a close watch on your dog's gait and behavior. If they resist putting weight on one or more of their paws for more than 15 minutes, you may need to seek out emergency care.
LOVEPLUSPET Dog Hock Brace could help sprained dog stabilize their joint, inner linning provide comfortable experience to your dog.
Arthritis: One of the most common sources of pain in older dogs is arthritis, which is degenerative and caused by normal wear and tear on your dog's joints. Just like humans, the pain can become debilitating in some cases and may be able to be treated with therapy.
Ligament Injury or Disease: There are several types of ligament injuries and disorders such as ruptures, tears, and degenerative diseases. These conditions may be caused by injury, illness, infection, or may be congenital. For example, cranial cruciate rupture is a hereditary condition that causes certain dogs to be more susceptible to tearing their cranial cruciate ligament.
LOVEPLUSPET Dog Torn Acl Brace is s perfect for Torn ACL, Back leg limping. The special design of the hinge, providing strong support, does not affect the dog's movement.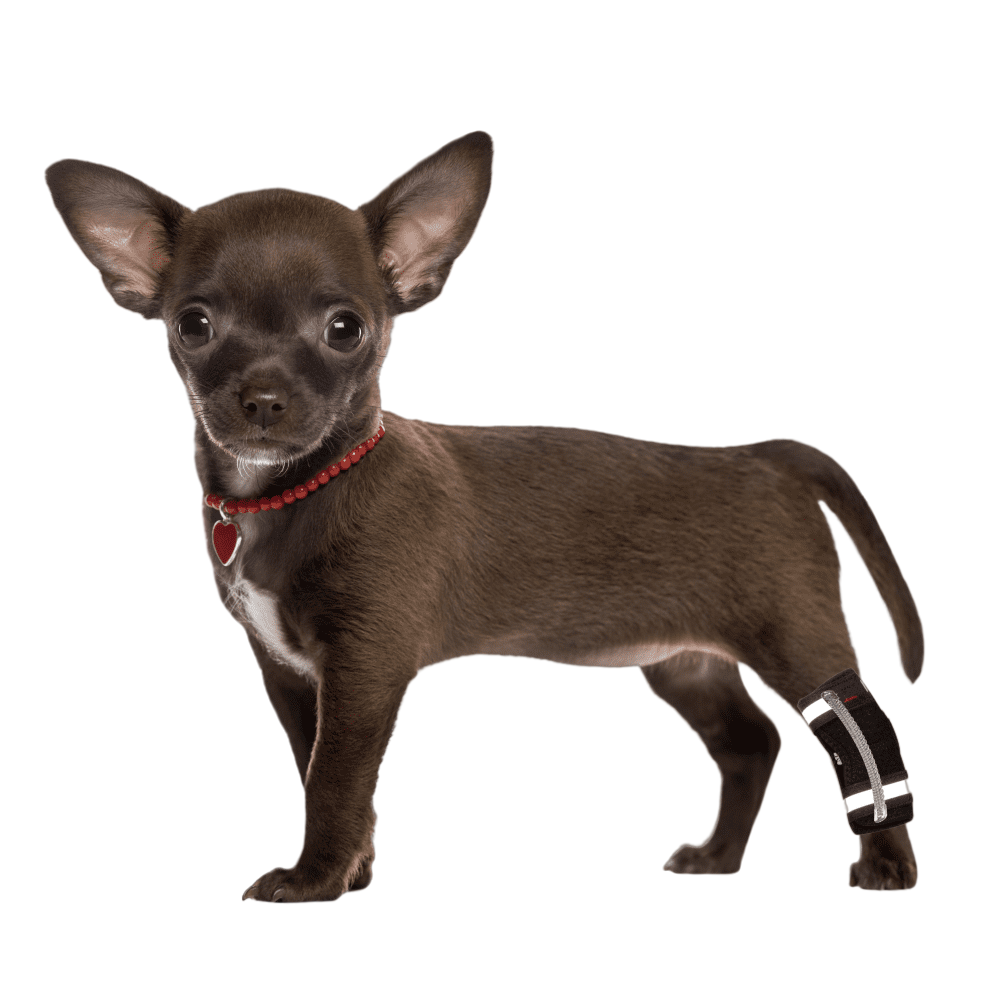 Dog Hock Brace
View product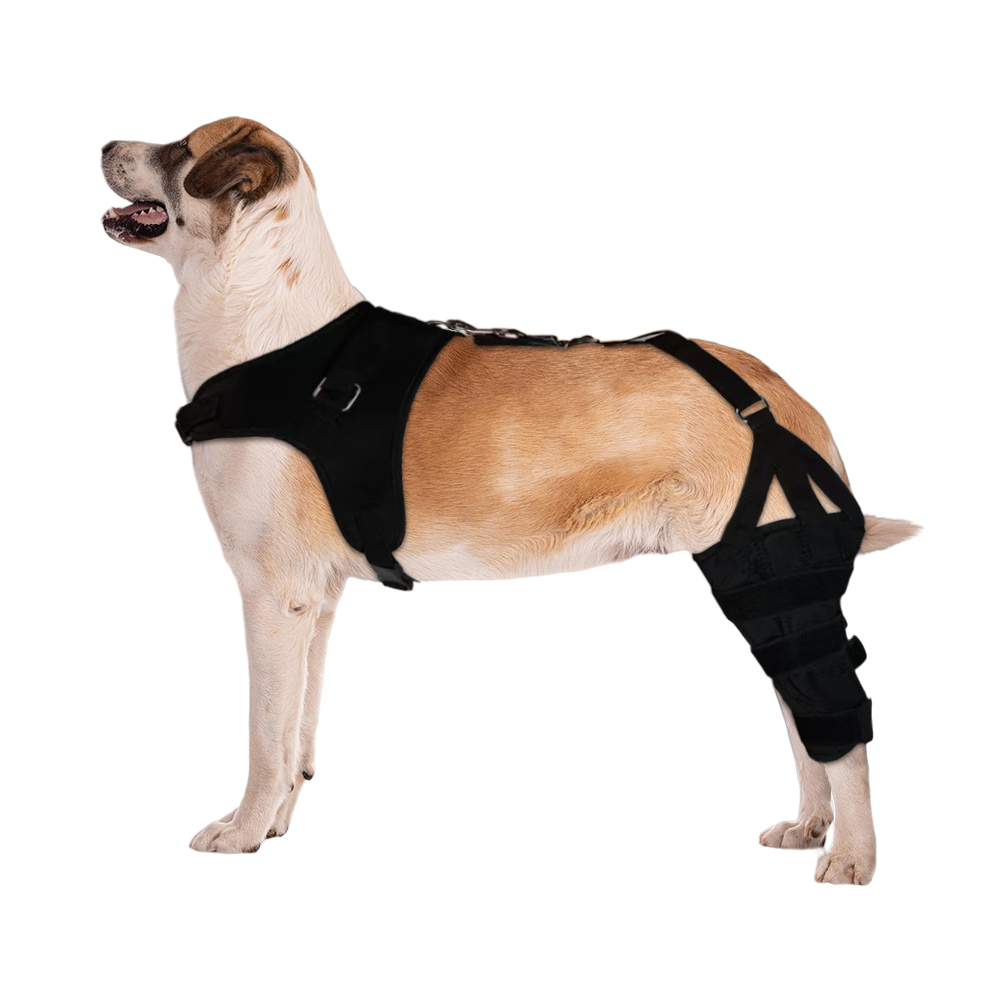 Dog Torn Acl Brace
View product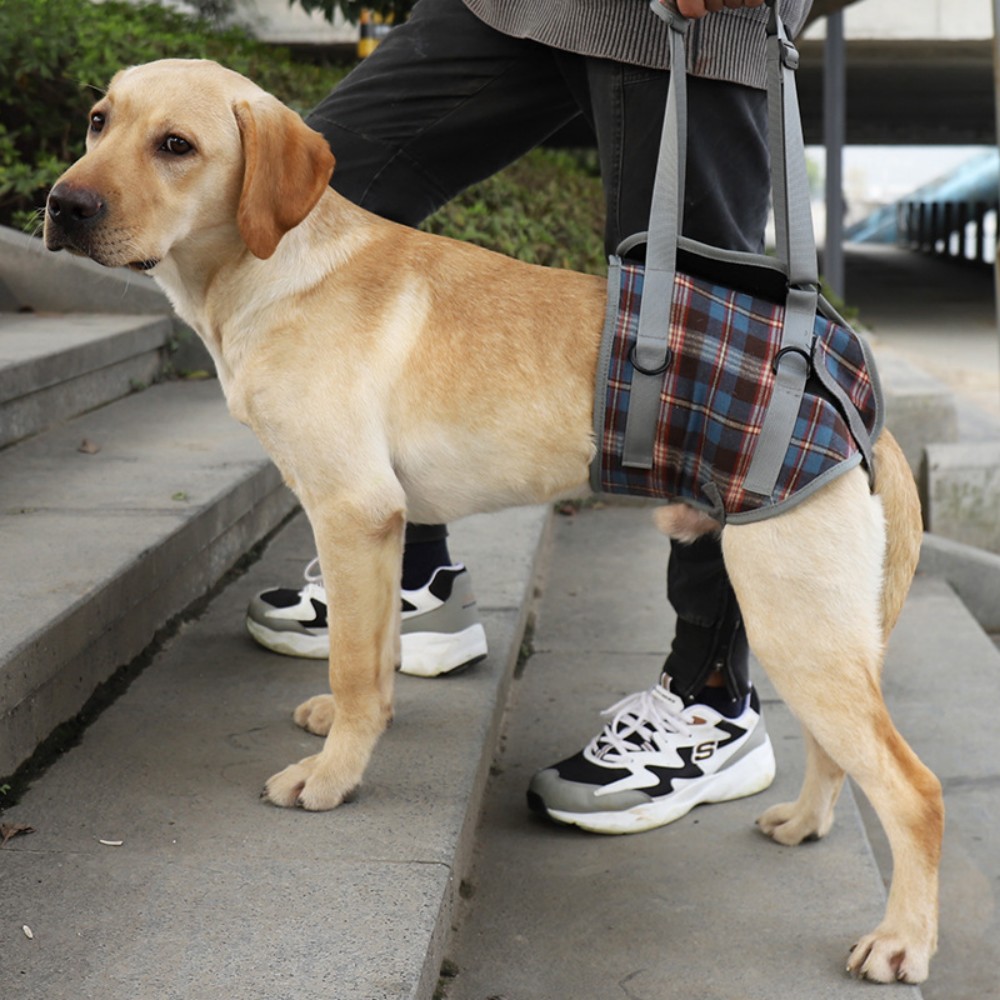 Grid Dog Lift Harness for Front Legs
View product
Examine Your Dog's Leg
First, examine your dog's leg with the help of a family member or friend to keep your dog restrained. You may need to put a muzzle on your pup to keep him from biting. If your pup shows signs of pain or becomes agitated, don't proceed — it's probably best to have your vet assess the problem in case it's more severe than you suspect.
1. Look between the toes and on the pads for foreign objects (splinters, thorns, glass, etc.), punctures, sting sites, or toenail breaks. Most dogs will pull back their leg when you touch the sore spot. Look for any wounds on your dog's leg.
2. Applying gentle pressure, work your hand along the inside and outside of your pup's leg. Feel for any signs of swelling, heat, abnormal bumps, and discomfort when you touch a certain spot.
3. You'll also want to bend and flex the leg joints to see if there's any tenderness or resistance from your pup.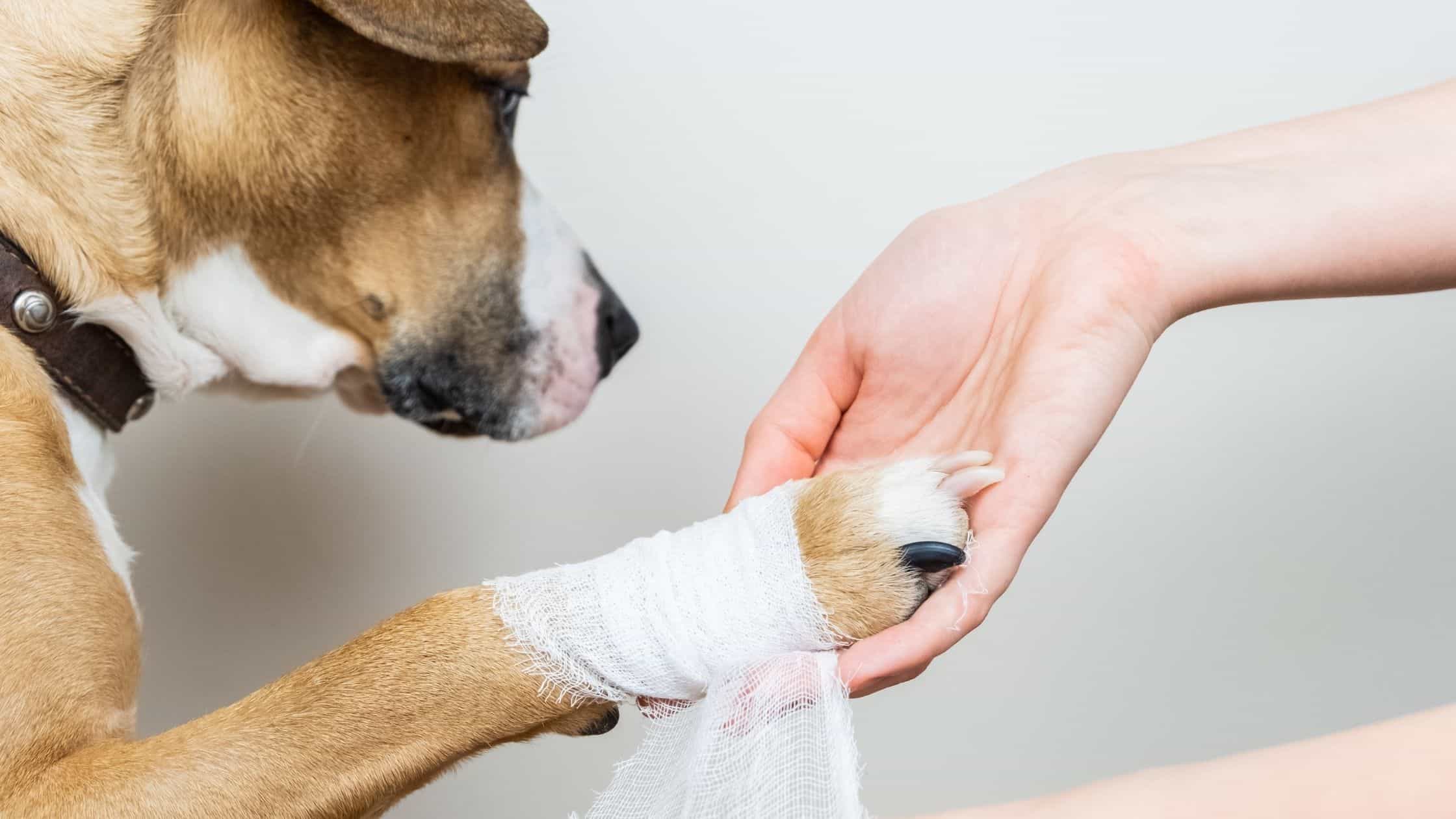 When Should I Go to the Vet?
Certain causes of both sudden and gradual limping require immediate medical attention. Visit your veterinarian or local emergency clinic immediately if your dog exhibits any of the following symptoms:
Extreme pain
Fever
Swelling
Obvious fractures or dislocations
Paralysis
Profuse bleeding
Conclustion
In the end, taking your dog to the vet when they don't need it is also better than not taking them when they do. If you feel like your dog needs veterinary attention, you should call and speak with your local veterinarian.
0 users like this.
Please enter your nickname.