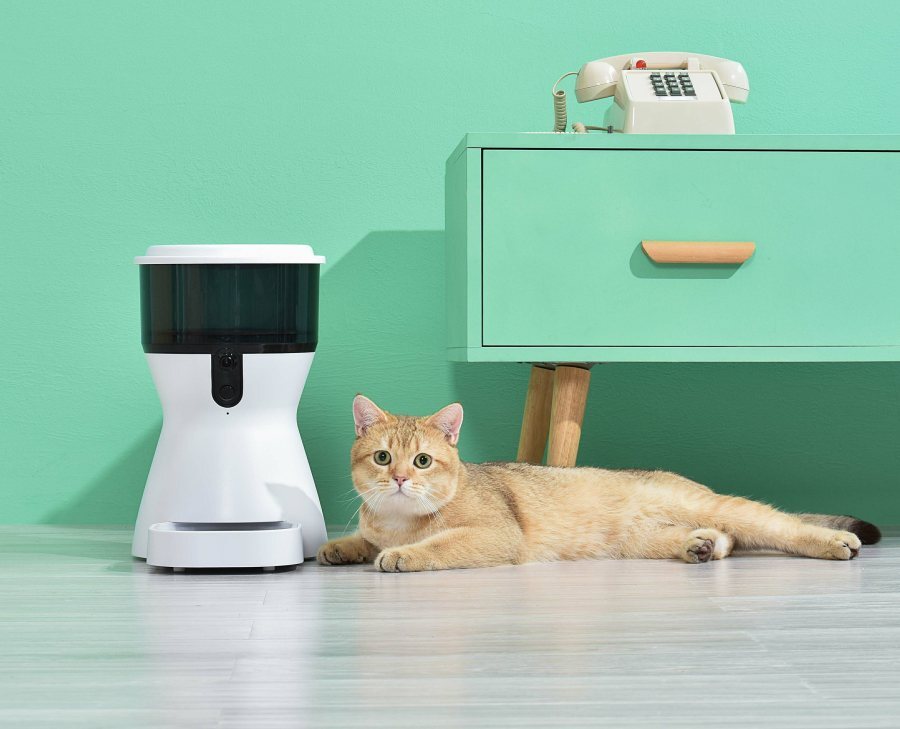 How To Choose The Best Automatic Cat Feeder? [Ultimate Guide 2022]
Monday, 24 January 2022

1

3807

0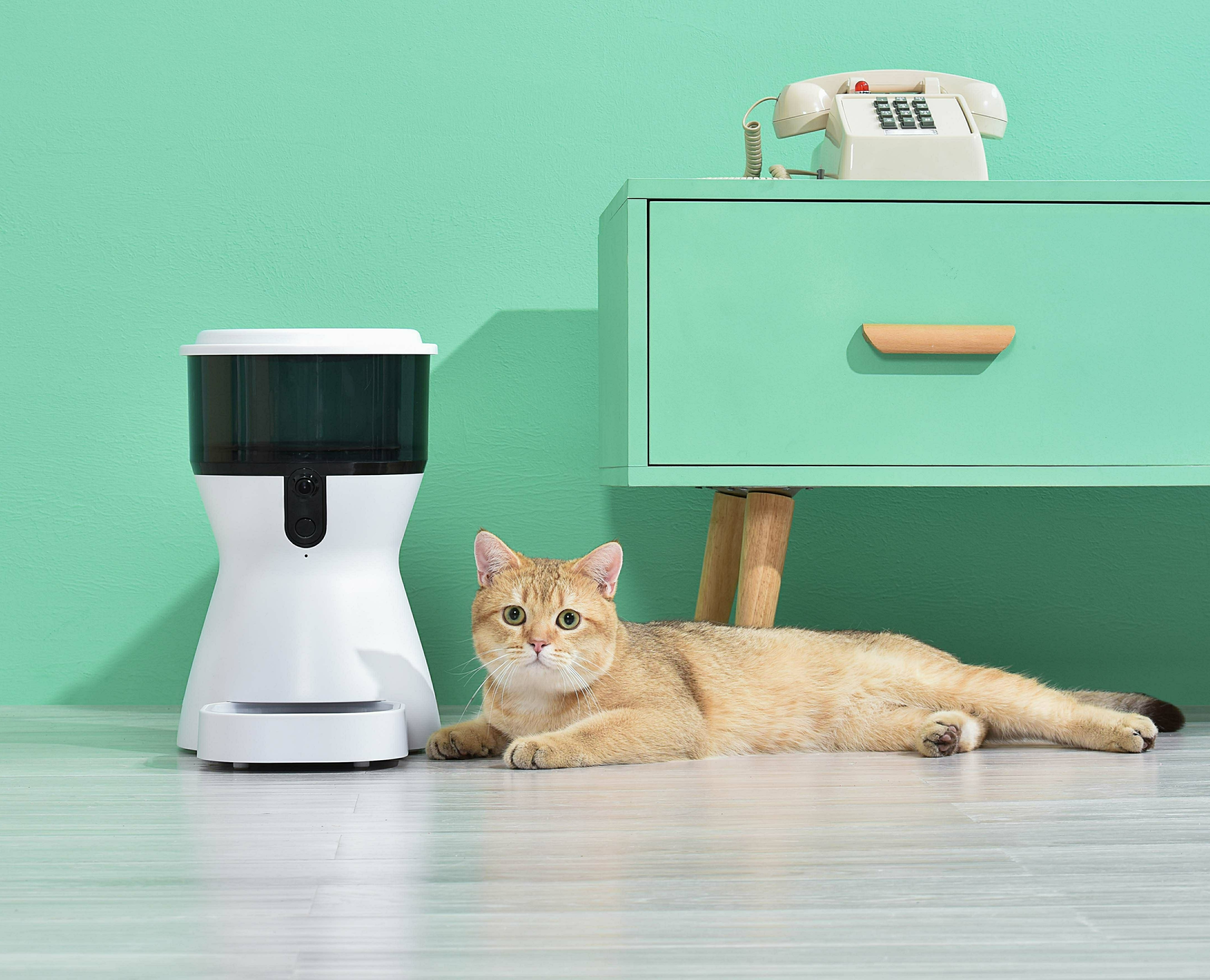 Best Pet Supplies & Products Online Stores | Cheap Dog & Cat Accessories For Sale - Lovepluspet.com

As cat owners, we treat our cats as family, we want our cats to eat well, be safe, and be healthy, and most of that is related to food. If your cat eats healthy food in the right portions and at the right times, you won't need to take it to the vet, except for the regular checkups. We already wrote an article "Overeating is dangerous for our beloved pets". An automatic cat feeder is definitely the solution.

However, most of us are working all day, unless you're a "work from home" kind of person, therefore, we can't stick to a feeding schedule. The key here is getting a smart cat feeder that can do the job for you. But there are hundreds of Automatic Cat Feeders in the market, what one should I buy?

If you're wondering how to choose an automatic cat feeder, we got you. This article will help you picking the perfect cat feeder for your cats.

What is an Automatic Feeder?

An Automatic Cat Feeder is a cat food dispenser that when triggered (either by a timer or an app) it will give your cat a pre-defined amount of food in a specific time!

There are many types of cat feeders, but it all depends on how the cat feeder works or how you control it.

How to choose Automatic Cat Feeder?

Getting a Smart Pet Feeder can save you the hustle of remembering to feed your cat and stopping your own daily tasks to go feed it, but it's especially useful for people that cannot feed their own cats when they're away for work.
But, with all these types of cat feeders, how to choose a suitable one for you? These tips will help you find out exactly what cat feeder you need to buy.

Feeding Mechanism:

The first thing to keep in mind is what mechanism does the automatic cat food dispenser you need uses?
Mechanical timer: Useful if you have a pre-defined feeding schedule that doesn't need to be changed. They don't allow you to change the default meal time.

Digital timer: Unlike classical cat feeders that only allow you to use default settings, a cat feeder with a digital timer allows you to customize the meal times and food quantity you want your cats to eat. Furthermore, digital timers allow you to set certain time intervals between meals or make custom feeding intervals for the same meal if you want your cat to eat slower for instance. This is particularly handy for cats with health issues like obesity or overweight.
WIFI controlled: this type of cat feeder is controlled remotely through an app, the feeder needs to be connected to your home WIFI and once you install the remote control app to your phone, you will be able to control the feeder from anywhere provided that your phone also has an internet connection.
WIFI cat feeders have the smallest feeding intervals (up to a minute!) and they are the easiest to control because they are the smartest. You can access it at any time to manually override your cat's feeding schedule to feed him whenever you want. In addition, these cat feeders allow you to choose the portion size of the food you want your cat to eat.
"I work a lot of random times so my cat can have breakfast and dinner at the same time every day now and I don't have to worry about overfeeding her." – Lisa De la Salle
Food Type and Portion

This is a very important thing too look for when buying a cat food dispenser. The type pet supplies of food the feeder dispenses can be problematic sometimes. Most automatic cat food dispensers are made to dispense dry cat food because it's easier cause the food won't stick to the feeder.
Another important point to consider is how large the single portion the feeder can dispense. Some cat feeders are limited to a certain portion. Let's say you need feed your cat 20 grams per portion but the cat feeder can only feed 15 grams maximum, now you have a problem.

built-in camera

automatic pet feeder with camera

With/Without Camera
Some pet feeders are equipped with a camera that enables you to see what your cat is doing 24/7. They can also be used as a surveillance camera from your phone or your laptop. New generations of smart pet feeders have also Night Vision and Motion Detection features.
Keep in mind that these automatic cat feeders are usually more expensive then the normal ones, so you will have to pay more, therefore, unless you really want to keep an eye on your cat, opt for a "more affordable" automatic cat feeder.

With/Without Audio Interaction (speaking & listening)

Out of all automatic cat feeders, this version is probably the smartest. It contains a built-in microphone and a speaker that allow you to hear what your cat is doing and speak with it! This smart pet feeder is usually from the kind that's connected to WIFI and it allows you to hear and talk to your cat through its app.
An automatic cat feeder with audio interaction can be handy in certain situations, for instance, if your cat has separation anxiety, talking with it from time to time can definitely soothe the problem, furthermore, the built-in microphone can give you continuous feedback of what your cat is doing, so you won't have to worry.

Price vs Quality

You need to look for the build quality before anything. There are many affordable cat feeders but the quality of the device isn't that great. The handle that controls the release of the cat food gets tired from holding all the food and over time, it will just bust open and can't handle the pressure. Furthermore, the quality of the control is really important, especially if you get a wifi pet feeder camera, try to avoid those with connectivity issues.
You should also consider if you wish to buy an expensive device from an overseas company or a Canadian one. When buying from a Canadian company you get guarantees, warranty, return, fast shipping, etc. However, you'll need to pay a bit more.
To help you save your money we've created a Financing Program with 0% interest. If you're a loyal Amazon buyer or want to read Amazon Reviews, visit our store.
How to choose an automatic cat feeder depends mostly on your lifestyle and your cat's eating schedule and behavior. Take your time and do some research and comparison to find the best modal that suits you. Don't hesitate to contact us through our Facebook Page.