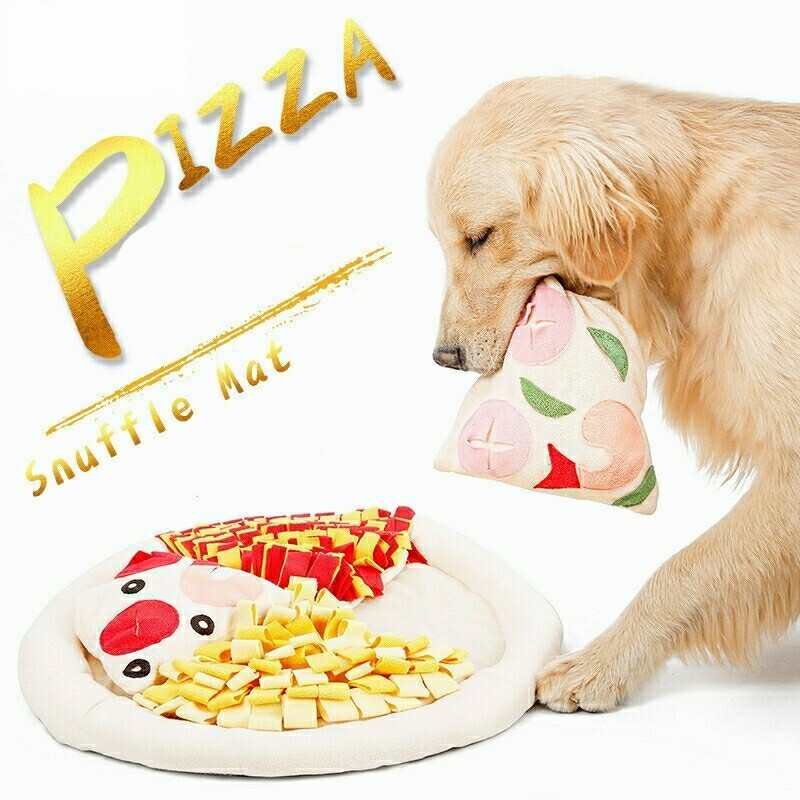 The Dog Parent's Guide to Dog Toys in 2022 - Dog Snuffle Mat
Monday, 24 January 2022

0

3915

0
Best Dog Toys - Snuffle Mats To Stimulate And Entertain Your Dog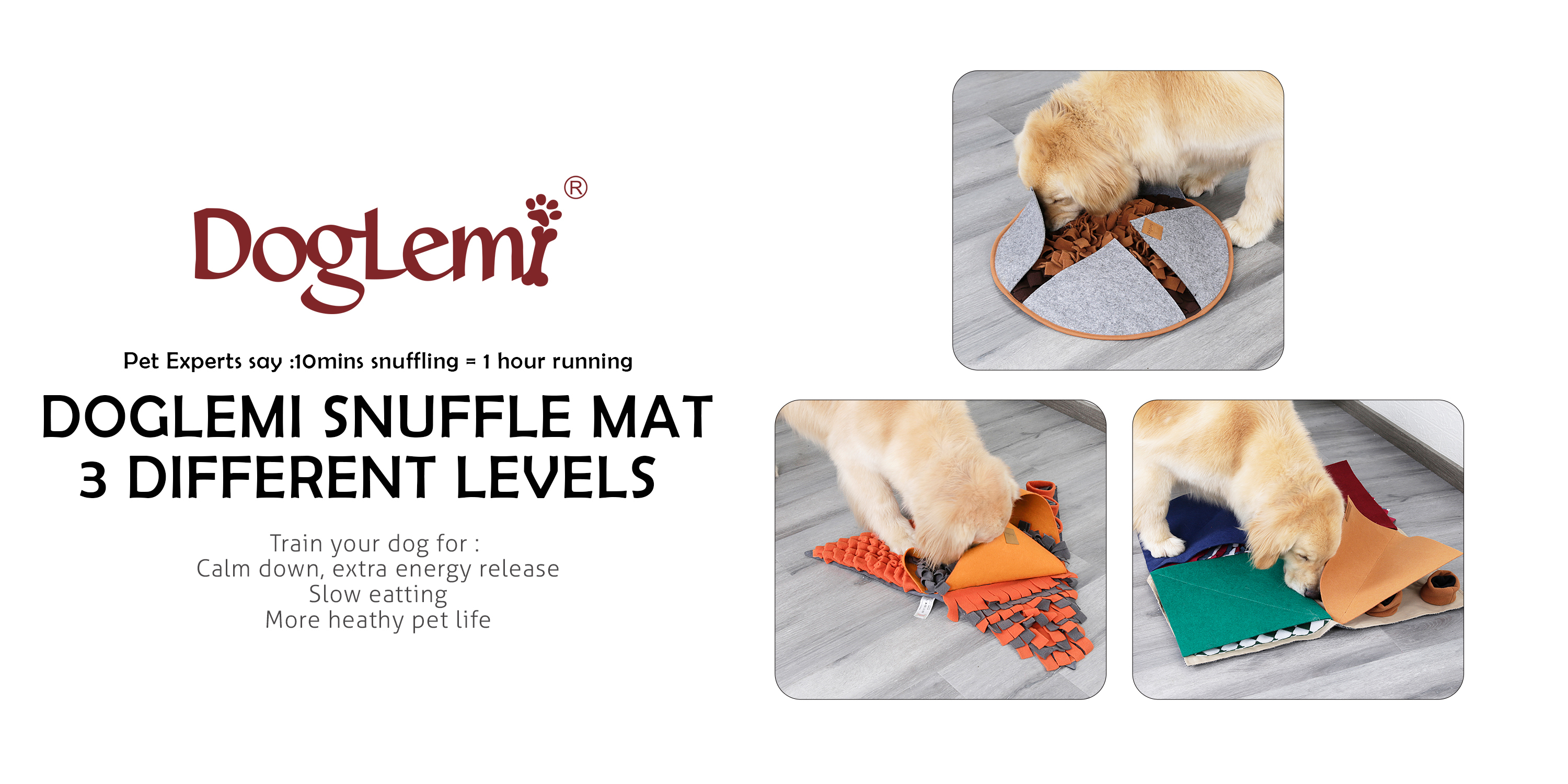 Get the best pet supplies such as snuffle mat for your dog to help keep them healthy and happy.
The best pet products snuffle mats for dogs are a great way to give your pet pooch mental stimulation, a fun way to find dry dog food and to help control their diet. They help encourage your dog's natural foraging instincts, but at the same time, provide an interactive game that your pet pooch will love.
Snuffle mats are pet supplies of dog toys that mimic grass and other similar outdoor areas. Your fur friend will need to search for and sniff out any of the best dog treats you have hidden amongst the strands of the mat. This will make your dog work for their tasty treat rather than simply having it given to them.
In turn, this engages their brain and stops them from getting bored and ripping up the furniture. It also encourages slower eating habits, which is better for their digestive system, especially if your pet pooch has a sensitive stomach.
Snuffle mats come in all shapes and sizes, with basic models typically having a set of close-knit strands to hide treats. To enhance the snuffle experience, fancier mats also include pockets and toys to make your pet pooch work harder to get that tasty treat.
How to choose the best snuffle mats for dogs

There is no one critical factor that you need to think about to make sure that you are getting the right snuffle mat for your dog. However, a combination of features will help decide your purchasing choice.
Probably the top consideration will be how much of a challenge your chosen snuffle mat provides. All dogs are different, some are smarter than others, so if a snuffle mat has too many challenges your dog might get frustrated rather than stimulated. You can start out simple and see how that works. Or make a judgment call and choose the challenge level you think is a good fit – no one knows your dog better than you.
Size does matter, but most snuffle mats are suitable for most dogs. Smaller mats can provide a real challenge for large breeds with large snouts, while a large mat can have lots of small challenges – it depends on what works best for your pet pooch.
What material the mat is made from is also something to check. All will be made from a non-toxic, dog-safe medium – if not, don't even consider it. But you might want to think about mats made from upcycled or recycled material – this is more environmentally friendly and saves on waste. We all know dogs like to chew, so think about how durable is the material is.
Doglemi Snuffle Mat for Dogs - Doglemi Sunflower Training Snuffle Mat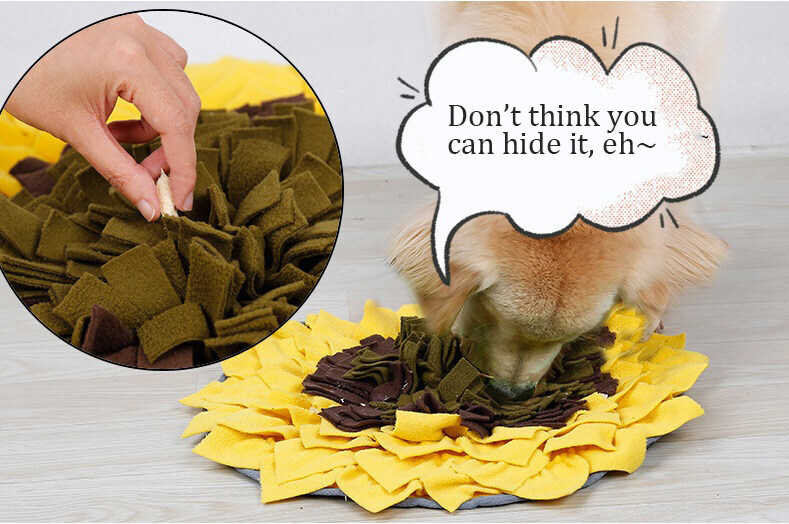 DOGLEMI Sunflower Training Snuffle Mat Interactive Play Toy Non-slip Mat For Small Medium Large Dogs
A dog's nose is around 40 times better than humans at analyzing smells, so your pet pooch will be pretty good at sniffing out its favorite tasty treats. But, to stimulate your pet pooch's brain and improve their mental health, they need a challenge and this snuffle mat provides plenty of them.
The Doglemi is designed to provide layers of funs and challenges. Shaped like a large flower, it has four layers of petals coming out from the center, which in turn are surrounded by an outer ring of messy fake grass strands.
These are both integrated into the base, which continues the flower theme with four petal-shaped areas, all of which contain even more challenges for your pet pooch.
In the center, the layers of petals aren't tightly packed, so don't offer much of a challenge for your fur friend. But for extra stimulus and excitement, there are three bells and four pieces of ringing paper randomly placed amongst the petals. The outer ring provides continuous fake grass strands for more challenging treat retrieval. And finally, a selection of four different types of challenges such as cups, flaps, and harder-to-reach flaps, complete the challenge.
The base isn't just petal-shaped to look good. Each of the four outer 'petals' folds into the center, creating an integrated carry bag for the mat. Four quick-release buckles make sure that it stays securely packed away when carrying and storing. But smartly, they double up as an anchor when the snuffle mat is in action. You can clip them around the legs of your heavy furniture and make sure the mat stays in place.
Doglemi Best Overall Snuffle Mat for Dogs - Doglemi Interactive Snuffle Mat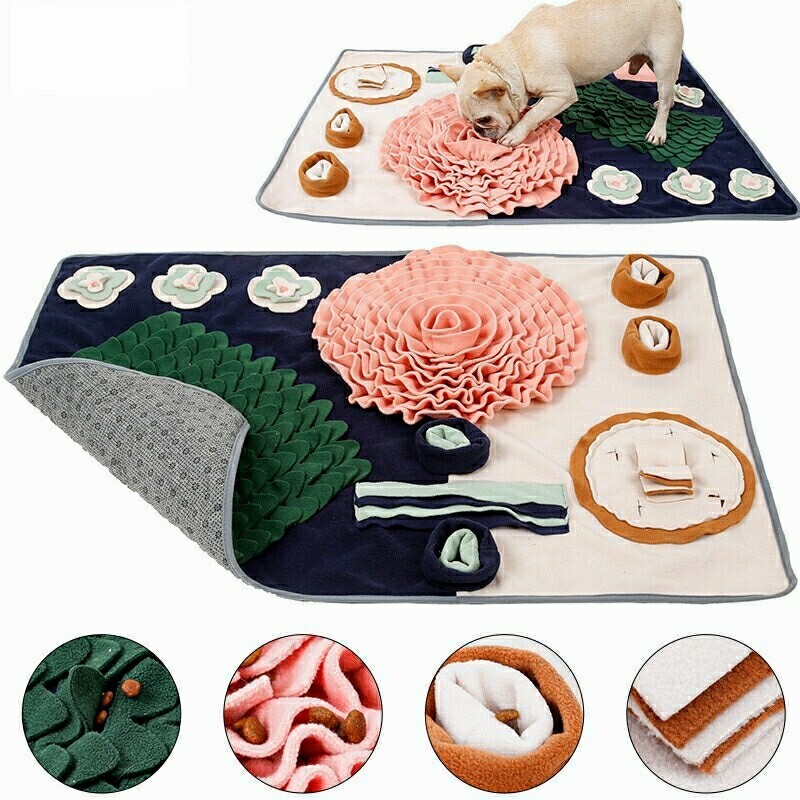 DOGLEMI Interactive Dog Foraging Mat Anti-choking Snuffle Dog Slow Food Mat For Small Medium Large Dogs
Keeping your pet pooch stimulated and entertained is not only good for their mental health but will also stop them from engaging in destructive behavior. When a dog gets bored, it will search for something to do – you don't want that to be chewing up the ends of your new sofa. This snuffle mat will help stop that from happening.
Made from a soft eco-friendly, machine-washable, sustainable polar fleece material, it is comfortable and inviting but at the same time durable. That's ideal if your dog gets over-excited and starts chewing.

The snuffle mat comes in two sizes, medium and large, making it suitable for small, medium, and large breed dogs. The medium mat measures 23.6in x 39.4in, while the large mat adds another foot and a half in width, making it over three feet square. A rubber non-slip material is embedded into the bottom of the mat to help keep it in place and make it easier to get to those tasty treats.
Both mats are divided into different spaces to give your fur friend maximum interactivity, stimulation, and some fun. A set of strands that mimic grass, though in this case not in color, takes up half the mat and is great for hiding small treats and kibble. Watch as your pet pooch tries to sniff them out.
To further stimulate your dog's senses, the other half of the mat has a host of flaps, pockets, and cups to help get them thinking. And when you and your fur friend have finished with the snuffle mat, you can simply roll it up, tie it up and store it away.
Doglemi Best Novelty Snuffle Mat for Dogs - Doglemi Pizza Snuffle Mat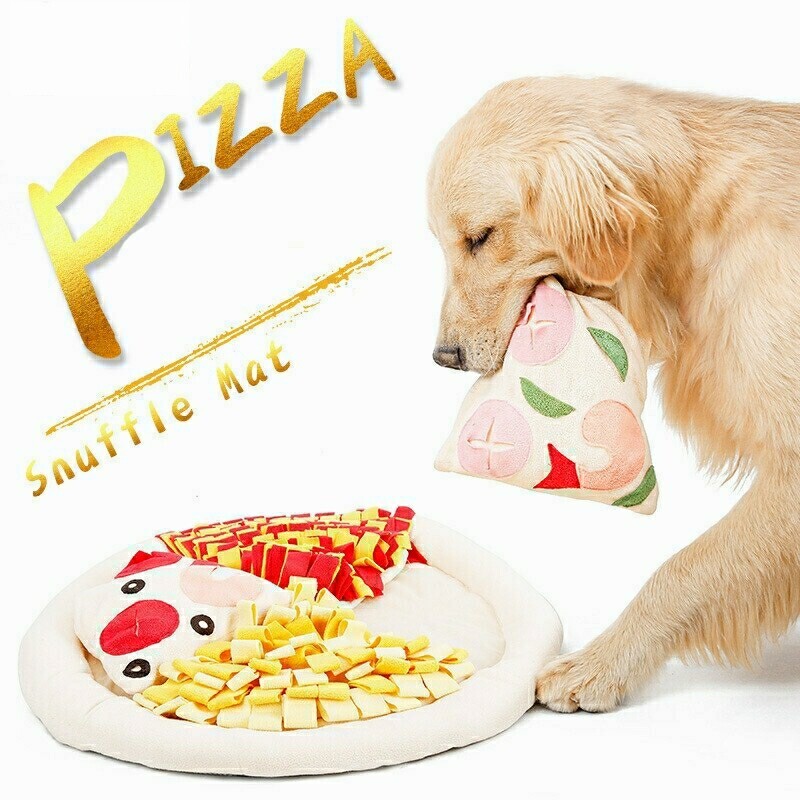 DOGLEMI Best Snuffle Mat For Dog Toys Pizza Snuffle Mat Durable Foraging Mat Anti-choking Pet Supplies
Best Pet Supplies & Products Online Stores | Cheap Dog & Cat Accessories For Sale - Lovepluspet.com